Posts Tagged 'Newmarket'
Saturday, May 18th, 2013
Following on from last week's post about visualising pace in the race, here's another pace chart painstakingly crafted for today's big sprint at Newmarket.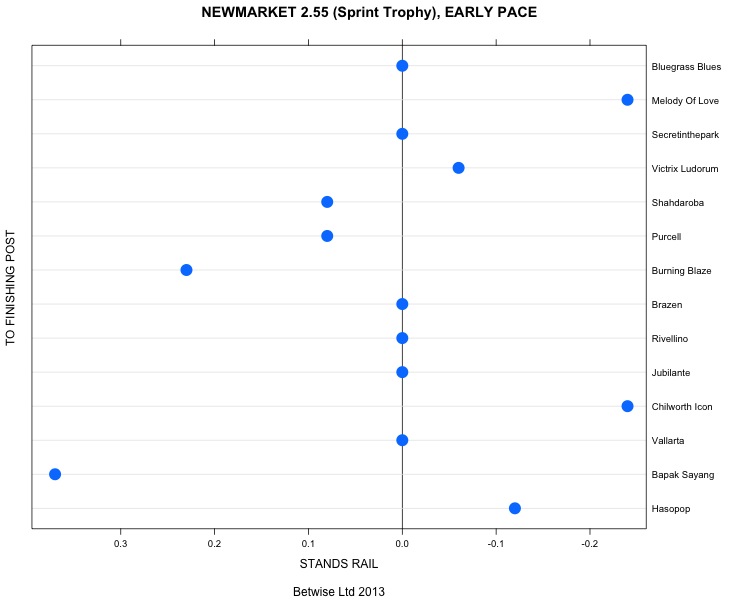 As with Ascot last week, you can see that at Newmarket the horses run from right to left if we are looking from the stands side (the usual television angle) of the course.  Thus Hasopop is in stall 16 and BlueGrass Blues, running towards the far (or "inside") rail, is in stall 1.
Non-runners Lewisham and Heaven's Guest (at the time of posting) have been removed.
So the pace in the race is definitely with Bapak Sayang towards the stands rail.  This colt has a great draw for a front runner in stall 15 in that he may be able to bag the rail early to run against and dictate the pace of the race.  The bad news is that Newmarket's wide, straight galloping course has not got the best strike rate for front runners with ambitions to win.  There also has to be a caveat that this horse has only had 5 runs so it might be a little early in his career to label him a persistent front runner.
If you like the graph, or anything needs clarifying, please let us know in the comments section.
Sunday, May 2nd, 2010
One of the strengths of the Betwise approach is using performance driven ratings models for a sustained betting edge over the long haul.  But on an individual race basis, it is just as useful to know the limitations of conventional models.
The 1000 Guineas today is a classic case (pun realised) in point.
Many of the leading contenders come to the Fillies' Classic today unraced since their 2 year old careers.  Yet recent form is generally  important in races where we look to rely on past performance.  Of those that are unraced this season, Seta, Pollenator and Hibaayeb are three particularly interesting contenders – particularly interesting because their level of 2 year old form was already high and each of their trainers knows exactly what it takes to get a horse ready to win a classic first time up.
The contenders who have raced this season are all bound to improve at a rapid rate from their debut runs (as befits a 3 year old thoroughbred), and each one of their trainers will have had today's race in mind to bring them to peak fitness, rather than their trial races on which we tend to rely for evaluating previous performance.  Add these factors together, and you have a big puzzle about improvement which is hard to solve.
To make matters worse, the scant form there is to go on comes at varying trips, often short of a mile, on varying ground conditions.  By all accounts, the current ground conditions at Newmarket are on the soft side of good, though it will be interesting to listen to the shrewder jockeys after the first race and consult the times – ground conditions may have a big influence.
Given that this is such a big puzzle, it's perhaps a race to avoid from a betting point of view – we want to have a very good idea of our exact edge when betting, not a very good idea that we are facing a big puzzle.  However, it's impossible to resist trying to solve a big puzzle, even if it is possible to resist betting on the outcome of it.
So, having been a little unfair in suggesting that it was time to throw the form book out of the window, here's a well considered guess using the data to hand.  It's conceivable to see many contenders winning having seen so little to date, but on ratings acheived over known past (and recent) form,  the French filly Special Duty and the Mick Channon trained Music Hill come out very well.  Seta does not come out well. (more…)