Pace in the Victoria Cup – because a picture is worth a thousand words…
By colin on Saturday, May 11th, 2013
Check out this pace graphic (just one of the things it's possible to do with Smartform and a little programming).
Every day we produce leader and lagger statistics in the Betwise Members' area – this graphic shows the difference between the two as "net lead" – if a horse is in the negative part of the graph, we expect them to start slowly, a horse in the positive part of the graph shows a probable early leader, and the extent to which they will lead.  Everything else is as you will expect to see in the race – horses are ordered according to the draw, from Solar Deity on the stands rail in stall 1 to Born to Surprise racing in stall 29 on the near side rail.   Ascot's a right handed course, so the horses are racing from right to left if you look at the course from above.  Therefore this is like an aerial view of the racecourse and shows us which horse(s) we might expect to be leading after the first furlong of the race, where the horse's position is represented by the blue dot.  Of course, the dynamics of the race mean that the horses will start to bunch and will not stay in "lanes" once they have started, also it's usually the horse that actually gets the lead that matters most (our prediction is Dream Tune in this case).
If you like this graphic or would like to see anything else explained or added to it, please let us know in the comments section.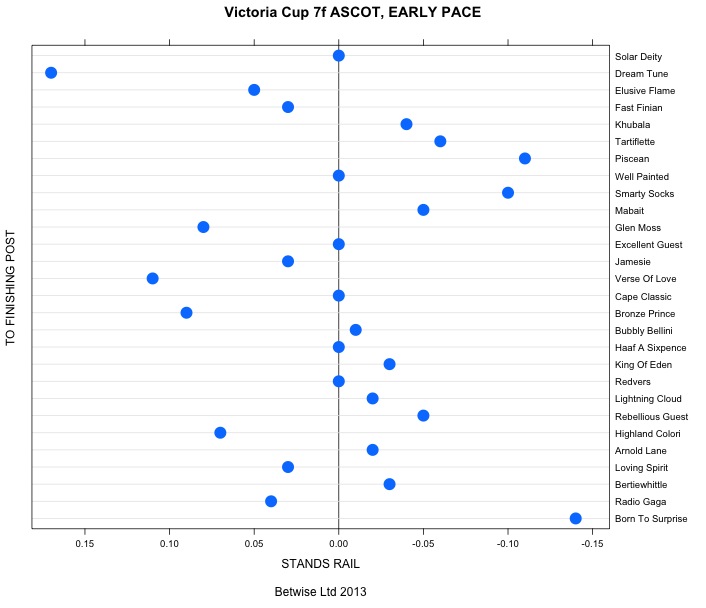 You can draw your own conclusions from the graphic but here are my thoughts on inplay bets:
The early pace looks to be towards the stands side, with Dream Tune looking highly likely to secure an early lead.  A good back to lay candidate?
Tags: pace, Smartform, Victoria Cup