Today's Chester draw bias for each runner
By colin on Saturday, July 10th, 2010
Chester, our favourite course for demonstrating the effect of the draw, plays host to a nice listed contest over 5 furlongs today in the 3.20.
Some very nice sprinters on display here, but how well will they be able to show their ability?  At Chester, more than anywhere else, the inside rail is always the place to be.  We've written about this well known bias on a number of other occasions, especially in terms of spotting front runners whose superior early speed can get them to the inside rail spot early.
In Racing Ahead this month, we go further by quantifing the draw effect in general, to give punters a handle on exactly what advantage there is.  Combined with front runner ratings over at the Betwise members' area, the draw often presents the best chance of understanding what will influence the race outcome most over the minimum distance – outside a horse's natural ability and form.
However, the picture is not "one size fits all" – field size makes a difference.  So let's have a look at the bias by stall, tailored for the field at Chester today using our Smartform draw model: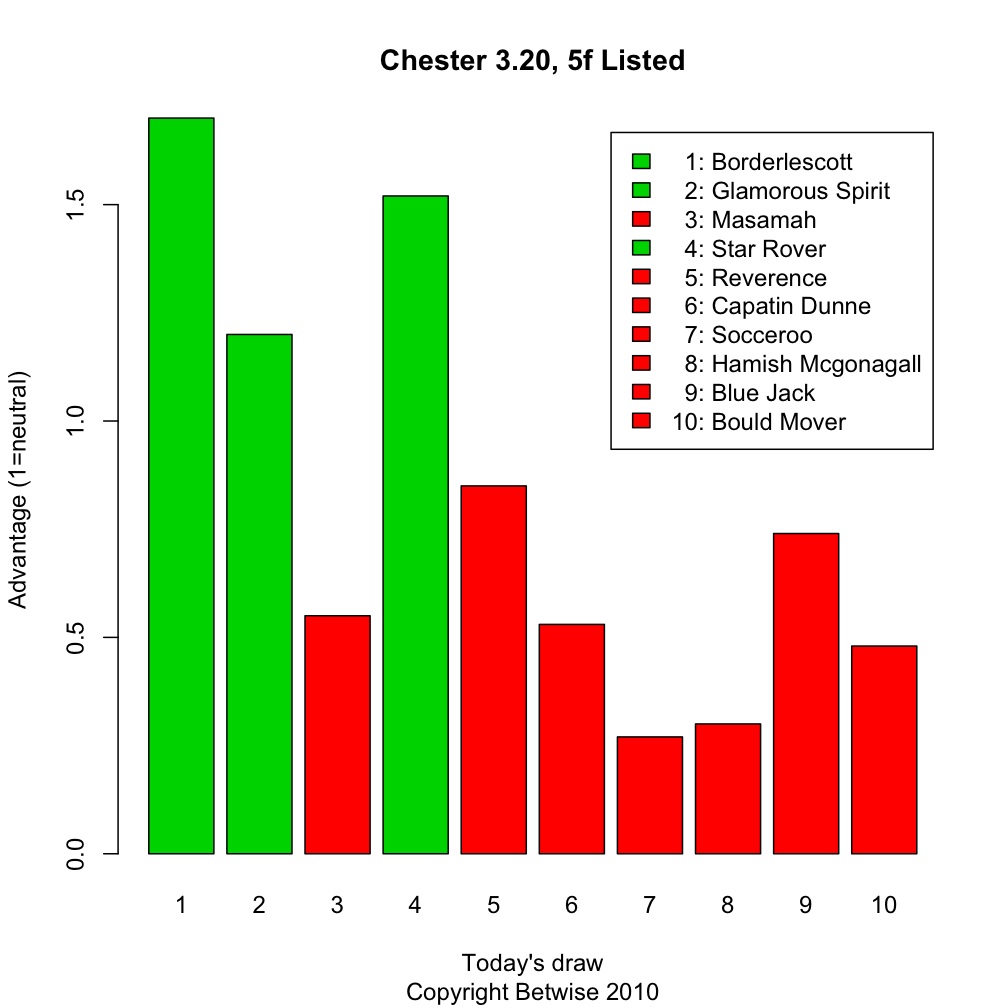 Whilst stall 1 (against the inside rail) comes out best over field sizes of 10, the advantage is not as pronounced as in larger fields, and, ability aside, does not reflect the current price differential between Borderlescott and Glamorous Spirit, drawn just to its outside.  Now, which of the two has a better chance of breaking early?  Head over to the Betwise Members' area and find out.
Tags: Betwise members, Chester, draw advantage, Glamorous Spirit, Smartform